And they're emerging alongside another transformative technology known as connected vehicles — cars, trucks, buses, and trains that use wireless technology to communicate with each other, smart devices, and other parts of the roadside environment.
While the vehicles themselves may dominate the center of this new transportation conversation, smart infrastructure will be just as important to make this technology work. How local governments and institutions adapt our roadways to meet these new advances will play a vital role in determining whether people will actually interact with the new technology.
But Southeast Michigan, which is already a hub for connected and automated vehicles (CAV) research, is making great strides in developing and implementing this new infrastructure as well.
Motor City mobility
For starters, the region is home to an approximately 125-mile sensor area known as the Southeast Michigan Connected Vehicle Testbed that runs along the I-94, I-96, I-696, and U.S. 23 highways between Detroit, Ann Arbor, Brighton, and Warren.
The testing zone features around 115 special sensors that can broadcast information back-and-forth between vehicles and infrastructure with the goal of reducing traffic congestion. The testbed was established by the State of Michigan and first unveiled at the Intelligent Transport Systems Conference in Detroit in 2014.
The Motor City has certainly not idled as an innovator in this area. In 2016, Detroit established the Office of Mobility Innovation, and earlier this year debuted two new smart infrastructure efforts downtown.
The first of these, The World's Smartest Intersection, refers to a series of five linked smart intersections located on a stretch of Larned between Griswold and McDougall that were used test Vehicle-to-Infrastructure (V2I) interactions this past summer. The project was a collaboration between the city and the Canadian company Miovision.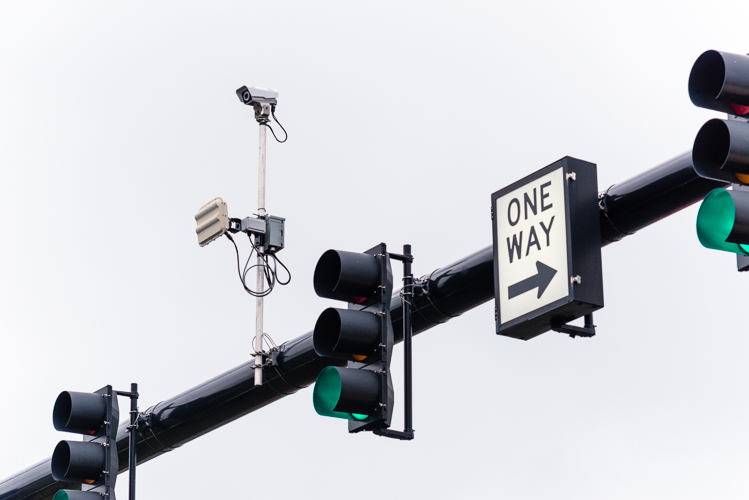 Sensor technology at the intersection of Mound Road and Metro Parkway
Since the Motor City already relies on Miovision smart technology to regulate more than 50 percent of its intersections, "Detroit was a natural place for this showcase," according to Dave Bullock, the company's vice president of marketing.
Miovision conducted the testing on Larned to understand how V2I equipment could be used to increase safety and reduce traffic congestion. The trials measured things like how camera-based sensors could detect pedestrian jaywalkers in real-time and then alert connected vehicles. It also demonstrated how heavy freight trucks could communicate with the smart corridor to hold green lights for a few seconds, facilitating traffic flow and reducing air pollution and fuel consumption at traffic signals.
"Most of the trials in Detroit were conducted through the summer, and we're now working with the city to assess results, and looking at rolling out some of those solutions elsewhere in the city," Bullock says. "Overall results have been very positive, and the city was able to see real-world results of how smart intersections make our roads safer, cleaner, and more efficient."
In June, the Michigan Department of Transportation (MDOT) collaborated with the mobility tech coalition PlanetM, DERQ (a Dubai-and-Detroit-based tech company) and FLIR Systems (an Oregon-based camera and sensor firm) on a V2X (vehicle to everything) safety project at the downtown Detroit intersection of Jefferson Avenue and Randolph Street. The partners selected this intersection because of its complicated road dynamics and high traffic volume.
The project uses a combination of visual and radar sensors and thermal imaging software to monitor vehicle, pedestrian, and traffic light interactions to predict collisions. It then harnesses artificial intelligence algorithms to create up to two extra seconds of advance warning to vehicles and drivers.
Testing the tech
When it comes to pioneering CAV infrastructure, a lot has been happening in the Ann Arbor-Ypsilanti area as well. Richard Wallace is the Vice President of Transportation Systems Analysis with the Center for Automotive Research (CAR), a independent not-for-profit research institute based in Ann Arbor that has been working with the State of Michigan on several projects involving CAV technology and infrastructure.
He calls the greater Ann Arbor area, "a hotbed of activity," due in no small part to the presence of the Mcity Test Facility and the American Center for Mobility.
Mcity is a proving ground for connected and automated vehicles and technologies owned and operated by the University of Michigan. Essentially a university research facility, it's located on a 32-acre site on U-M's North Campus and features simulated urban and suburban driving environments.
The American Center for Mobility (ACM) is non-profit testing and product development facility that makes it home on the grounds of the former Willow Run Air Force manufacturing complex in Ypsilanti. Wallace refers to ACM as a "test facility for hire" — a place where manufacturers and others involved with the technology can go, not just to take their connected or automated vehicles for a spin, but also to develop synchronized technology and voluntary standards.
"We need to make sure that automated vehicles developed by one manufacturer don't hit pedestrians, don't hit cars made by other manufacturers, don't hit bicyclists," Wallace says. "So collaboration is going to be needed, standards are going to be needed."
Beyond that, the University of Michigan launched two driverless electric shuttle buses on its North campus earlier this year. Manufactured by the French company NAVYA, the shuttles seat 11 people and use invisible lasers and GPS to navigate the surrounding environment. They're also equipped with on-board cameras to gather data about people's reactions to driverless vehicles.
Wallace calls them "low-grade automated vehicles," noting they can't operate without safety drivers and sometimes get stuck at stop signs. But he expects the technology to mature over time.
Rapid response
But perhaps no area in Southeast Michigan has been preparing itself more for CAVs than Macomb County, which has been watching the development of the technology closely for about a decade now — and more recently has begun to take advantage of it.
In 2013, the county completed a state-of-the-art 25,000-square-foot Communications and Technology Center (COMTEC) that allows the Road Department to rapidly respond to issues involving connected vehicles.
With the help of federal grants, Macomb has also been investing in road side units that make use of Dedicated Short Range Communications (DSRC) technology. The devices mount on traffic signal poles and receive and transmit data from the onboard systems of connected (and eventually automated) vehicles.
"A car would know when it's going to turn red, even when it's still green," says Macomb County Traffic Engineer Adam Merchant. "The car knows where it's at, how fast it's moving and what signal it's approaching and that gives it the ability to give different kinds of warnings to the driver."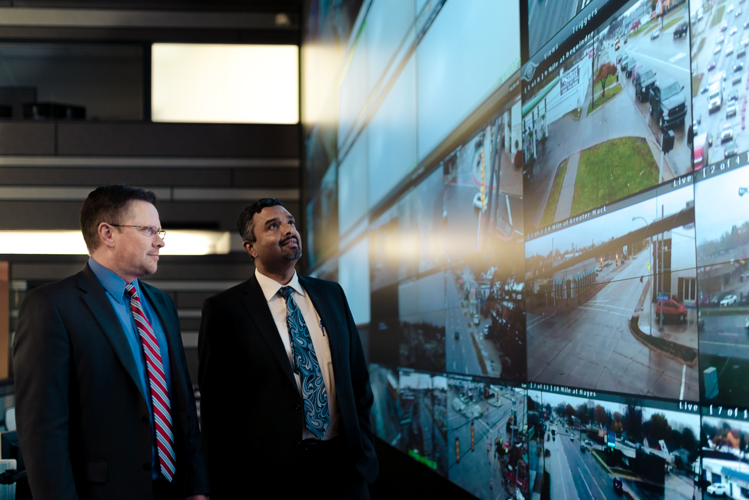 Traffic Engineer Adam Merchant and John Abraham, Macomb County Director of Traffic and Roads, monitoring traffic at COMTEC
The county has already selected a contractor to install 300 road side units across its jurisdiction. As of today, 15 have been installed and are currently working in a testing capacity. The rest are expected to be installed and integrated into the system in the coming months.
Oakland County hasn't sat idle either. The county set up its Connected Vehicle Task Force in 2014 with the expressed goal of creating a business model that would allow it to invest in connected vehicle technology and infrastructure. Comprised of members from the county itself as well as from other governmental agencies and the private sector, the task force has been looking into what V2I tech would work the best and how to pay the cost of installing it at Oakland County's roughly 1,800 traffic- signal-equipped intersections.
"The number one priority is to improve traffic safety for our motorists," says Chris Olzem, an Economic Development and Community Affairs spokesperson with Oakland County. "A V2I system allows the local road commission to become aware of ice on the road so other drivers can be warned in a timely manner, notify a driver of approaching emergency vehicles, suggest alternative routes due to heavy traffic congestion, red light warning, among other safety measures."
Like Macomb County, the Oakland County task force is interested in road side units that make use of DSRC technology. Because safety messages would only take a small portion of the devices broadcasting bandwidth, Oakland County believes it will be possible to use some of the remaining channels to generate funds that could eventually cover the costs of the units deployment.
The county has chosen the Canadian firm P3 Mobility to develop the project. It's now in the final stages of contract negotiation and expects to have units installed at ten intersections for testing purposes by March of next year.
Effect on city planning
But what are city planners to make of all these new tech developments? That's a topic Terry Croad, Southfield's director of planning, has been thinking a lot about. He's been researching the issue and attending the meetings of the Michigan Connected and Automated Vehicle Working Group, a quarterly gathering arranged by CAR in conjunction with MDOT.
Croad says while the details of CAV technology are still being hammered out by engineers and designers, it's imperative that planners keep an eye on what's going on because it's bound to have some big implications for land use.
"Cars parked in a parking space for an employer sit around idle most of the day," he says. "But if that car is being used by multiple people in the family, then there's no need for so much on street parking and the stall width could be reduced."
Similarly, he believes drop-off and pick-up areas will need to become more prominent to facilitate greater circulation. In turn, this could lower the need for concrete and asphalt and increase of green space in a city.
And he feels the consequences for local governments that don't anticipate these changes and invest appropriately in infrastructure that embraces the new technology are bound to lose out in the long run.
"The younger population want to be mobile, and they're starting to make other decisions with regards to mass transit and using Uber and Lyft," he says. "Ultimately, a community that is not on the forefront of these developments is going to have a harder time attracting the human capital that are the new resources today for employment centers."
The article is part of a series, supported by the Michigan Science Center, exploring key regional issues in science over the next five years. Read more articles from this series and others from our collaboration with the Michigan Science Center here.
Starting May 14, 2019 over the course of three days, the international AutoSens conference will take place at the Michigan Science Center. The conference connects engineers from around the world to lead technical discussions with the purpose of transforming the future of vehicle perception technology.
Photos by Steven Koss.
Source : http://www.modeldmedia.com/features/CAV-infrastructure-metro-detroit-121318.aspx